Our Start
Bio Foot Reflexology and Massage Center opened its doors in Beaverton on August 15th, 2011. We strive to provide our customers with a restorative style of massage and an authentic form of Chinese Reflexology.
Pingxiu (Lisa), our Operations Manager, is originally from Nanning, China. She graduated from the Chinese Traditional Medical College in 1992, specializing in Tui Na therapeutic massage. She started working as a clinical massage therapist for Zhong Yi Xue Yuan Clinic in Nanning, honing her skills and perfecting the modalities she incorporates into her massage sessions today. In 2005, Lisa moved to Portland, Oregon and in February of 2009, she registered at Everest Institute's Tigard campus to obtain a U.S. massage license. She graduated with honors in January of 2010. She worked for G&L Acupuncture starting in the summer of the same year. Lisa came to Bio Foot Reflexology and Massage Center in August of 2011.
Bio Foot Reflexology and Massage Center LLC expanded the business to our Lake Oswego location on December 15, 2013; and opening our doors at Burnside on March 8, 2017, was the fruition of a full dream to provide a full Traditional Chinese Medicine Wellness Center.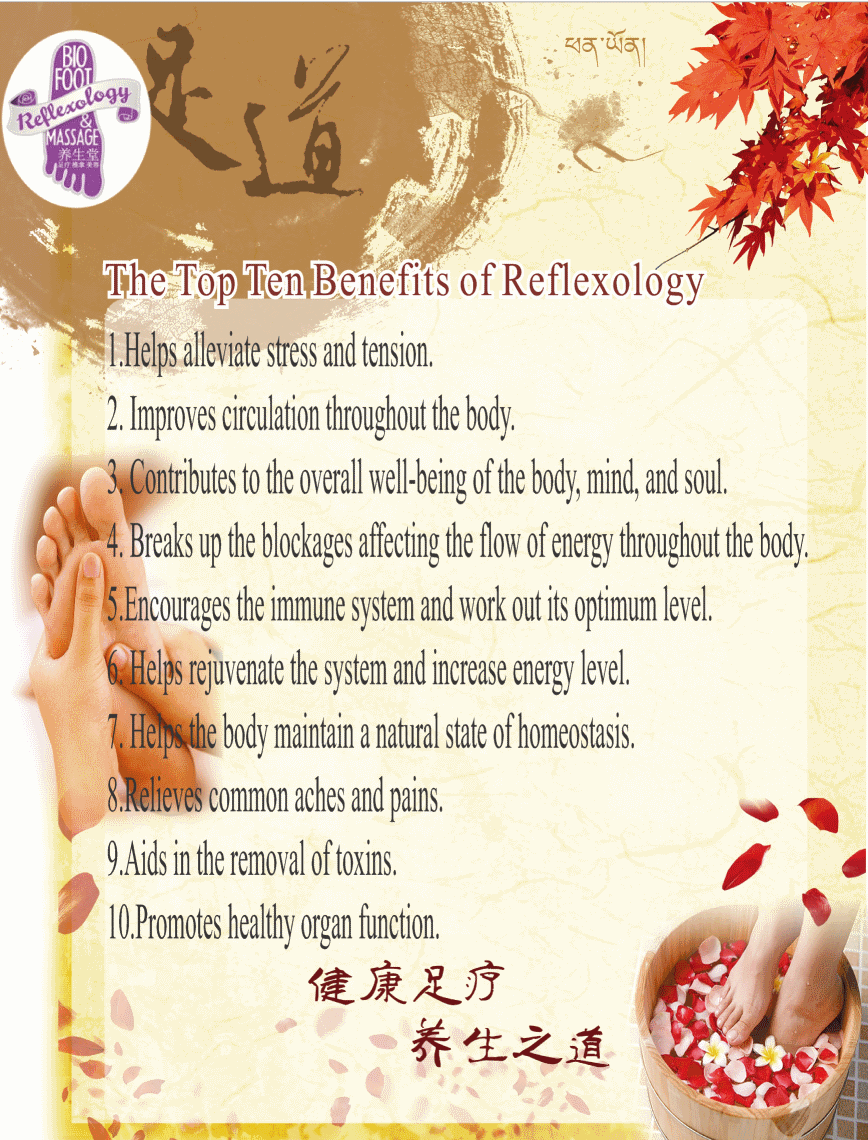 Our Specialties
Acupuncture
Acupuncture involves the insertion of extremely thin needles through your skin at strategic points on your body. A key component of traditional Chinese medicine, acupuncture is most commonly used to treat pain. This is available at our Burnside location.
Traditional Chinese-Style Reflexology
Authentic Chinese-style Reflexology foot massage is used in China to promote preventative health maintenance and relieve stress. Several of our therapists have studied in China. Research shows the proven benefits of reflexology include:
Induces relaxation
Reduces pain
Improves symptoms of health concerns
Improves blood flow
Positive impact on physiology
Enhancement of medical care
Complement to cancer care
Positive supplement to mental health care
Post-operative recovery and pain reduction
Tuina Massage
Tuina is a Chinese Medical Acupressure-style massage used to relieve pain especially in joints and restore balance to the body. It is more effective than any other style of massage at getting rid of your tight, tired muscles and relieving stress. This is Pingxiu's area of expertise. Qi Gong Tuina is a lighter version massage designed to give relaxation. It provides some limited therapeutic results.
Our many years of healing allows us to set you on the right path to health, quickly.
"Biofoot therapists are very knowledgeable about reflexology they know pressure points and they use their hands and fingers!"
Send us an email using the form below.